Go Dutch! is an initiative to attract investment and development in the Dutchtown neighborhood. In March 2019 the neighborhood hosted a Go Dutch! event bringing together real estate professionals, homebuyers, lenders, neighbors, and other stakeholders to educate about opportunities within Dutchtown.
I developed a brochure which is distributed to real estate professionals selling properties in Dutchtown to help promote the neighborhood to potential buyers as an attractive place to live. The brochure expands on the Dutchtown brand, using the same bold colors and typefaces and communicating simply and directly.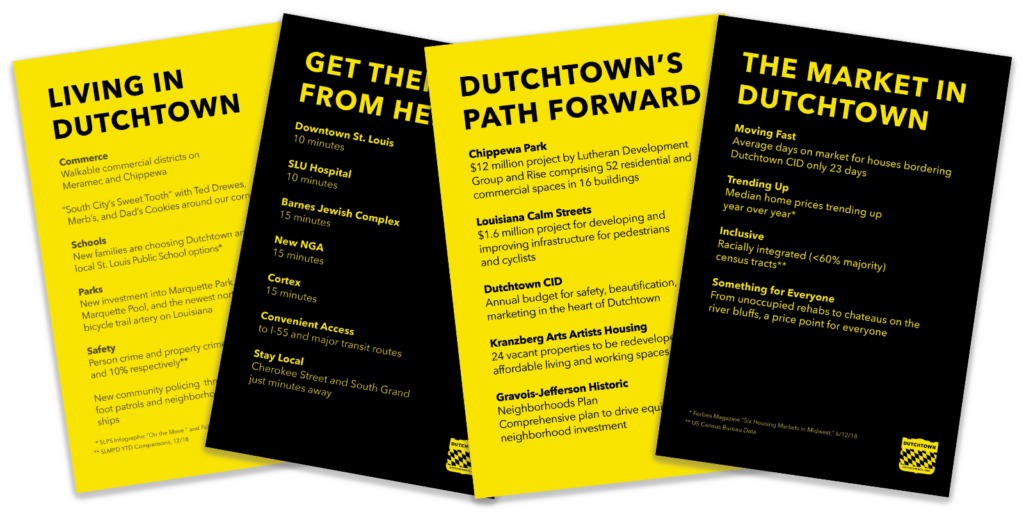 I also designed large 24″ by 36″ posters for the March event reiterating information in the brochures, again utilizing the Dutchtown branding.
Additional versions of the brochure have been developed to target other markets such as potential Opportunity Zone investors. A small companion page was also developed on the DutchtownSTL.org website. More Go Dutch! events are planned for the future and the project will continue to expand in scope.
View a full PDF version of the brochure. I also created a companion slideshow.